INFORMATION SHEET
CORNER OIL BUBBLE (THE ORIGINAL ONE) MADE IN ENGLAND.
Patent No 9805491.9
22-05-15

• Seamless Integration.
Triangular profile and built in heat shields allow the stove to be integrated seamlessly with interior layouts creating a fully fitted and not just stuck there look.
• Clean and Convenient
Why carry coal and wood around when you already have diesel aboard! Bring an end to constant refueling and de ashing and get rid of all the dust and mess.
• Constant Warmth
Unlike solid fuel stoves, oil stoves can run at a constant steady temperature creating a much more comfortable environment and minimize condensation.
• Dry or Wet Versions.
Corner Stoves can be supplied with or without a water heating boiler. Unlike all other stoves the boiler on the Corner stove is a fully integrated and wraps around the two right angle sides of the stove keeping the rear outer surface of the appliance water cooled and allowing it to be fitted into tight locations.
• Integrated Fiddle Rail
Integrated fiddle rail to stop cook pans slipping off the top plate.
• Additional Features
Fully adjustable door hinges.
Fully adjustable door lock.
Stay cool easy to use door handle.
Coal Kit.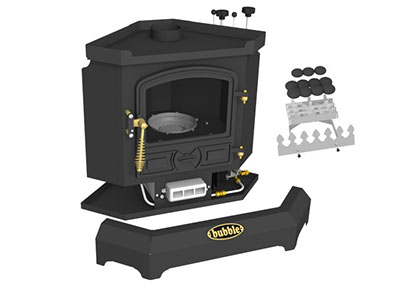 • About the Stove
As its name implies, the Corner Bubble has been designed to fit into confined spaces. The triangular shape allows the stove to be fitted into a suitable corner so minimizing the use of space.
The triangular base acts as a built in drip tray and positioning device to allow adequate clearances for air to circulate around the heater panels and convect heat.
The top of the stove can be used for a variety of heating jobs from warming to cooking depending upon the configuration used.
It will provide a variety of heating options -:
Space heating via convection.
Space and water heating with cooking on the top plate.
The stove features a front mounted oil control valve with easy access to the control knob, it uses a more economical burner which will run at 3cc's (.18 of a litre per hour) on minimum firing rate and 8cc's (.48 of a litre per hour) on maximum firing rate.
(To work out the running costs find out the price per litre of the diesel that you are buying and do some simple maths.)
The stove incorporates a combustion air restrictor as opposed to the more traditional swinging barometric damper and also features a front mounted oil control valve with easy access to the control knob.
Weight.
Dry Stove 35kg
Wet Stove 45kg
Designed and manufactured in the U.K.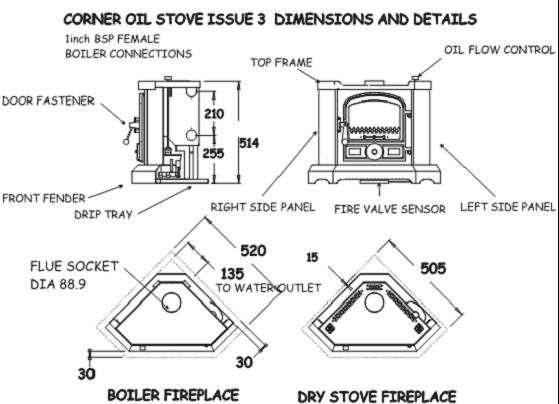 Copyright © 2020 Bubble Products Ltd